Autores: Christian Ortega Loubon y Ricardo Correa Márquez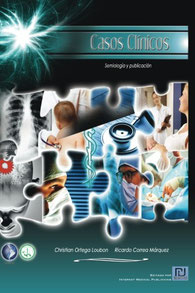 Descripción: "Casos clínicos: semiología y publicación" es un libro que proporciona la base teórica para escribir un caso clínico adecuadamente pero lo más importante es que te ayudará a generar un artículo para publicarlo en una revista y presentarlo en congresos científicos. Este es un libro que todo estudiante de medicina y médico joven debe leer ya que guía al lector de una manera metodológica a adentrarse en el fantástico mundo de la clínica y la ciencia.
ISBN-10:

 1461079624

ISBN-13:

 978-1461079620
DOI: 10.3823/9000
Opiniones de clientes en Amazon.com
5,0 de 5 estrellas 
You have to read it!
Amazing book, everyone that wants to publish a case should read this book. It give you details of all the process.
I published one case with the help of it
5,0 de 5 estrellas 
Excellent
el 14 de octubre de 2011
-
Publicado en Amazon.com
I know some spanish and I get to practice it and learn with this book. It's fun to read and very instructive. I like the examples it has. Two thumbs up!
5,0 de 5 estrellas 
Excelente libro
te enseña de una manera facil como hacer y publicar un caso clinico, espero que los editores lo traduzcan al ingles pronto
Formas de adquirir este libro
En papel:
Digital: